Electric Grace: Still More Fiction by Washington Area Women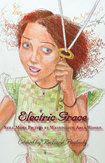 Laundry Fugue
(featured in
ELECTRIC GRACE, Richard Peabody, ed.,
c 2007 by Paycock Press
"The high only worked as long as she didn't think, but it was an effective block to thought - she just floated out on the radio - somewhere people who wanted to be together were listening to this same song, getting off on it, and years down the road they'd be nostalgic for it the way Mom was for that Don Gibson song "Sea of Heartbreak" that she said reminded her of being newly wed. For Ginger, the memory of "Angie" would be forever tied to this attempt to escape Budge's trial..."
---
Film Review: Persepolis


"Persepolis
,"an animated film by
Marjane Satrapi
, derives its power from several sources: the simplified imagery inherent in spare black & white drawings, the well-developed characters (voices of Danielle Darrieux as her grandmother, and Catherine Deneuve as her mother, don't hurt), the backdrop of political upheaval, displacement and tragedy, and amid all this, the compelling story of a rebellious young woman who both defies authoritarians and sabotages her own opportunities – in short, a real person.
In the same way that an accurate drawing is more exact than a photograph... Satrapi's minimalist use of eyes, shadows, the blunt rectangles of cityscapes, and the postures of her characters, convey volumes.
There's no wasted motion in this film. Each detail contributes, whether it's the foreground image of an inchworm on a budding tree, or the way Marjane twitches her chador to cover her hairline.
---
Karmafornia excerpt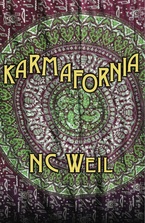 "Their love strobed, bodies alternately furnace and freezer, threaded through with ecstasy that trickled along their nerves like ice melting, metal liquefying, frost forming. The air in his lungs was partly her exhalation and therefore partly her, seeping into him the way cold crept into the car. They were one substance - was separation possible? This Walt Sanders identity was a single chip in a great mosaic; their multiple lifetimes creating the complete image."

"The pull Cob had exerted on her before was still there – this broken leg was the first salvo in a war he didn't want. He should leave – not just this room but California, their history. Karma, Cob said – Walt had barely given it a thought before coming out here but Karmafornia was where he'd landed. Berkeley, Cob, the van driver on Highway 17, even Laura were on the same wavelength: hurry up, push, go, trample. What was he doing here? He couldn't see his peaceable nature prevailing. Karma supposedly provided opportunities to fix past mistakes, to evolve, but Cob had already destroyed him twice – what was going to be different this time around?"
---