A bit about NC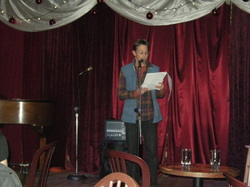 NC Weil has a BA in Russian Language & Literature from University of Colorado in Boulder, and though she has no Russian ancestry she's aware of, Dostoyevsky spoke to her early on, followed by Tolstoy, Tarkovsky and others.

She has a large collection of toast cartoons.
She enjoys languages, wordplay, and the fun of inventing new words whose place in the lexicon has been blank.
Pictured here: she reads a short story at Denver's Mercury Cafe during one of Ed Ward's "Stories, Stories, Bring Your Stories" evenings.

---
Live Language Corner

Triposphere
- the level at which travel occurs (might be surface, on a trail or road, might be at 30,000 feet) -
if you're in the triposphere, you're on your way someplace.
...
Snifficance
- when official curiosity gets closer than you'd like: "There was too much snifficance to his questions - I just ended up offering variants of
I don't know
or
oh really
."
..
Intimition - intuition with respect to time. "He wasn't sure when he'd get there but when my intimition said to go, I did, and he was just arriving."
...
For more word invention, visit
Urban Dictionary